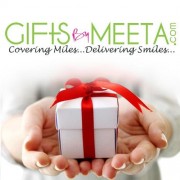 Each year gifting companies come up with varied ideas to make the gift giving experience hassle free with added benefits. This valentine season Gifts by Meeta has got the same day gift delivery services for the customers in Delhi NCR to meet the demands of last minute celebration plans.
New Delhi, India, January 6, 2016 (Newswire.com) - With all the rush and busy schedule the dates and items slip out of mind, taking this very issue into consideration same day delivery will get the items in few hours of ordering. This timely delivery covers an array of gifts that would get to the doors within hours for a perfect celebration. For all the timely expressions of love and bring the romance in just one doorbell this same day delivery will do wonders. In case one decides to propose on the Valentine's Day, the gifts will be there at the service. The online gifting portal is easy to access with smooth navigation through the category pages and payment procedure to get the items one desires.
To avoid the situation of not showing up with a gift for the celebration, couples have been provided with pocket friendly gifts that would reach before they get home. Promising quality of gifts in attractive packaging have been sorted to ensure a blissful celebration. Categories of fresh and artificial flower arrangement, personalized gifts, chocolates and soft toys and several other valentine gifts for girlfriend has been brought on the same page to give you an easy purchase. All the items are in latest fashion and colors with the diversified trend market as Delhi has got. Special hampers and combos have been designed to complete the celebration with relaxing hours and good couple time. According to the catalog manager at Gifts by Meeta, "These days market runs on spontaneity. If a customer asks for anything, we should be on our knees to deliver as quick and best as possible to gain the trust and loyalty. We have made sure none of the areas in Delhi misses out on the celebration even with the last minute planning, as happy celebration is what we order".
Sooner you express your feelings better the chance of getting the reciprocation to your love and we help you do it soonest.
Cakes flavors have also been added to same day gifts delivery in Delhi in order to give the day a sweet note with tasteful flavors lined up. This makes is reasonable to send romantic gifts to India with free shipping to add on to the benefit. All the sorted items have prevailing trends and colors in Delhi to meet the taste and preferences of the individual. The idea of getting the items delivered within few hours and not days is still fresh to be popular in the gifting market. Most of the areas in Delhi NCR have been covered under this scheme to ensure a quality gifting experience.
Same day gifts delivery services is here to rest all that last minute rush from shop to shop on a week day to get the most perfect gift for your partners. Gifts getting delivered within hours of ordering gives the masses relaxed celebration without having to think and act. All the gifts for him in India will reach to the workplace, home, hotels and colleges in Delhi just with quick and easy steps of ordering.
Gifts by Meeta is an online portal to give you the best gifting services right at the doors with promising deliveries. Additional benefits of free shipping in India, same day delivery in Delhi NCR and express delivery worldwide gets the items in reasonable prices. An array of gifts with flowers, cakes, personalized gifts, garden decor and hampers make every occasion and celebration complete with special add of trendiness and long lasting tastes.
Share: