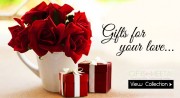 Unique gifts give you a brand new chance to get closer and hit the strings of their heart to make them listen to a personal love song. Gifts by Meeta has got gifts that adds on to your love story that takes you to be different from the crowd so, that you choose a right gift for every celebration to keep the thrill and surprises coming in your love relationship.
New Delhi, India, January 3, 2016 (Newswire.com) - The gifts that you get for your partners to celebrate their birthdays, your anniversary, valentine's or wedding day should depend on your understanding of the relationship and the individuals. Gifts break the monotony of the regular days and different gifts for different occasion keeps the excitement and commitment intact. Exceptional gifts show how much efforts you have put to make the relationship grow. When you are in a relationship, gift giving is inevitable but, with each coming occasions we tend to run out of better gift ideas and end up selecting the repetitive gifts only to see our partners smiling. In recent years there has been a shift in the gifting behavior and people have started searching for new gift ideas to leave the partners surprised. According to the Marketing head at online gift portal, Gifts by Meeta – "As the changing gifting behavior we keep adding new items to our inventory due to the varied interest and experimental ideas customers come up with. Gifts is one such category that involves the thoughts and ideas of the people so they could gift wrap any relatable item as a token of their feelings and emotions. So, it is always good to bring to them new ideas in the form of items that they can attach their emotions to".
Personalized gift online range have items that can make unique gifts for girlfriend and boyfriend as expressions are always personal and fresh. Mugs and frames being the most common personalized items the new entrants involves the personalized bottle lamps, coasters and cushions in the curated range. Spa hampers, grooming kit, jewelry and artificial flowers are some of the gifts trending in to suit any occasion. The online portal gives the leisure to shop anytime and from anywhere and the gifts reach on time with free shipping in India and worldwide delivery. Gifting for any occasion has become much easier with the introduction of on time delivery that includes few quick procedure. The exceptionally unique items for all ages comprising the funky and cool gifts with relatable colors, quotes and prints are going to get included in all the upcoming celebration. Endless gift ideas to impress your boyfriend with unique boyfriend gifts that is catchy enough and utility based have been brought on one platform to make the occasions delightful with additional offers and deals and attractive packaging.
Different gifts that we get for our partners for each occasion keeps the excitement and fun alive for healthy years of togetherness.
The relationship that you share gets a kick with the minute excitements and thrills and the easy way to bring it is through grabbing the special days to give the different gifts that you could come up with and many such gifts can come your way through the online portal.
Gifts by Meeta, is one of the best online gift shop that would be by your side for each occasion and make it stand out with the perfect gift wrap coming right at your doors. Gifts for the wedding day, Valentine's Day, birthday, anniversary have been given a separate dedications and a wide range for options that are apt and tasteful. With special benefits of worldwide delivery, free shipping in India and same day gifts delivery in Delhi NCR we make the gift giving experience quality and time saving.
Share: